Bueno ya lo encontre, esta en Rio:
http://www.naval.com.br/blog/2016/01/28/...e-janeiro/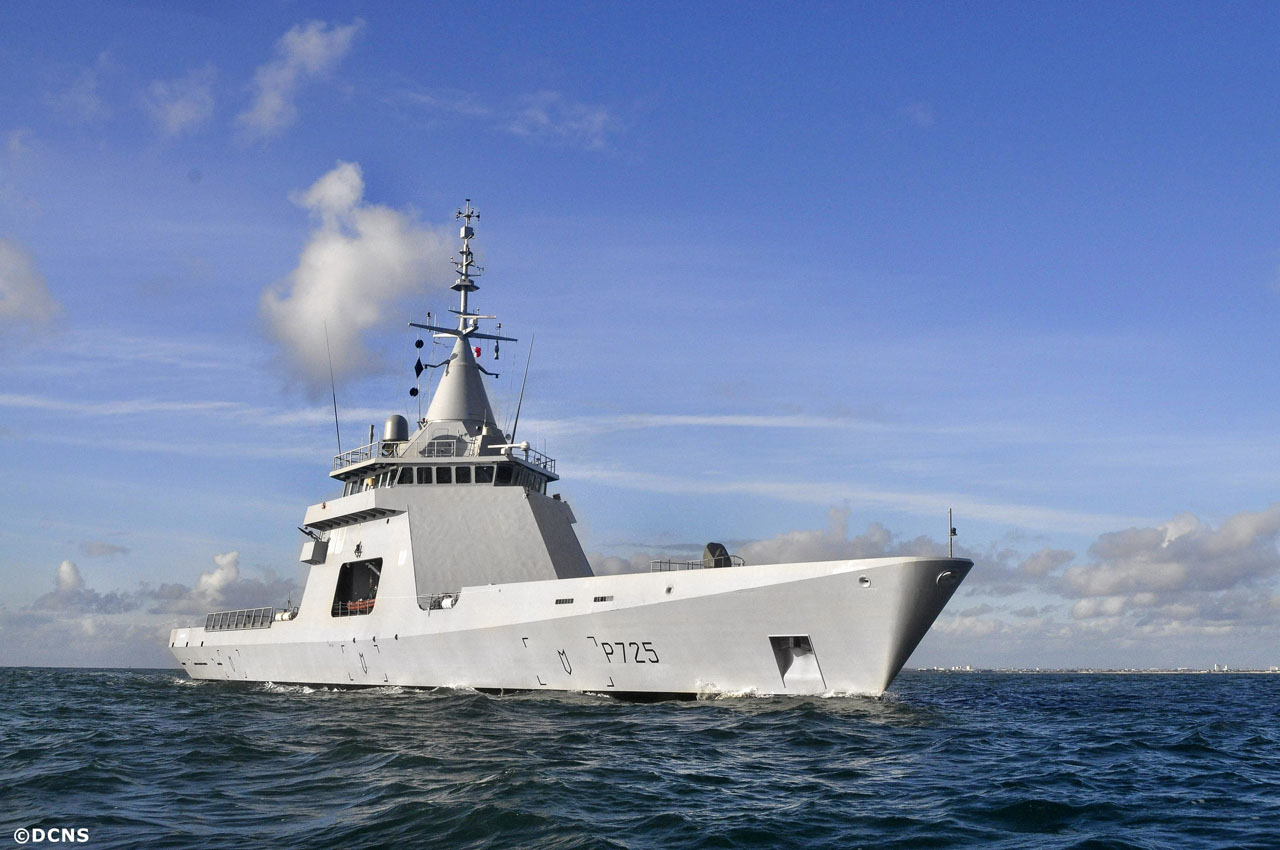 navio-patrulha oceânico (OPV) francês L'Adroit está visitando o Rio de Janeiro, de 28 de janeiro a 2 de fevereiro de 2016.
Na segunda-feira haverá uma coletiva de imprensa com o comandante do navio, o capitão de fragata Nicolas Guiraud
e o Embaixador da França, Sr. Laurent Bili.
Fruto de uma colaboração inovadora, iniciada em 2011, entre a Marinha nacional francesa e a DCNS, o navio-patrulha oceânico L'Adroit, construído com capital próprio da DCNS, foi colocado à disposição da Marinha nacional francesa por um período inicial de três anos. O acordo entre a DCNS e a Marinha nacional francesa foi reconduzida por duas vezes por uma duração de 1 ano cada, levando ao final a disponibilização em proveito da Marinha para o dia 31 de julho de 2016.
O navio-patrulha oceânico L'Adroit tem capacidade de cumprir todas as missões de um navio-patrulha : vigilância marítima, proteção da ZEE, luta contra a imigração clandestina, policiamento da pesca, luta contra os tráficos ilícitos e contra a pirataria, emprego de forças especiais (locais específicos e alojamentos disponíveis para até 27 passageiros), remoção de nacionais.
O navio é inovador em numerosas áreas de atuação (sistema de lançamento na água das embarcações, convés 360°, mastro fixo único, tripulação reduzida (32 tripulantes).
Único navio da Marinha nacional francesa atualmente apto a operar o drone S-100 (Schiebel), o L'Adroit permitiu experimentar o SERVAL cujo objetivo era definir as características do futuro sistema de drone tático da Marinha nacional francesa e elaborar seu conceito de emprego.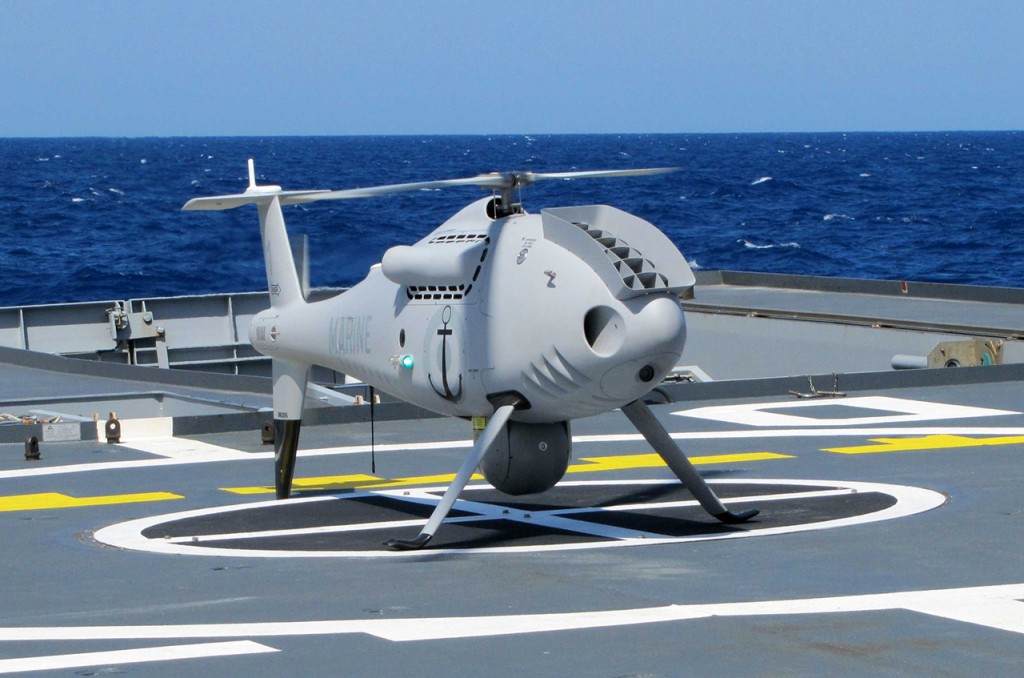 Camcopter S-100 no L'Adroit
O L'Adroit navegou além do estreito de Malaca, no mar da Chinaou e no Golfo da Guiné. Totalizando 530 dias de missões, foi integrado na CTF150, na missão contra pirataria ATALANTA e ainda em missões de vigilância marítima e de policiamento dw pesca no canal do Moçambique w no mar Mediterrâneo (missão Thon Rouge – Atum vermelho). Ao final de quatro anos de utilização pela Marinha nacional francesa, o navio está presente como "combat proven", apresentando-se como vitrine da DCNS voltada para a exportação das corvetas do tipo "Gowind" para as quais contratos já foram efetivados com o Egito e em particular com a Malásia, após a visita do navio-patrulha.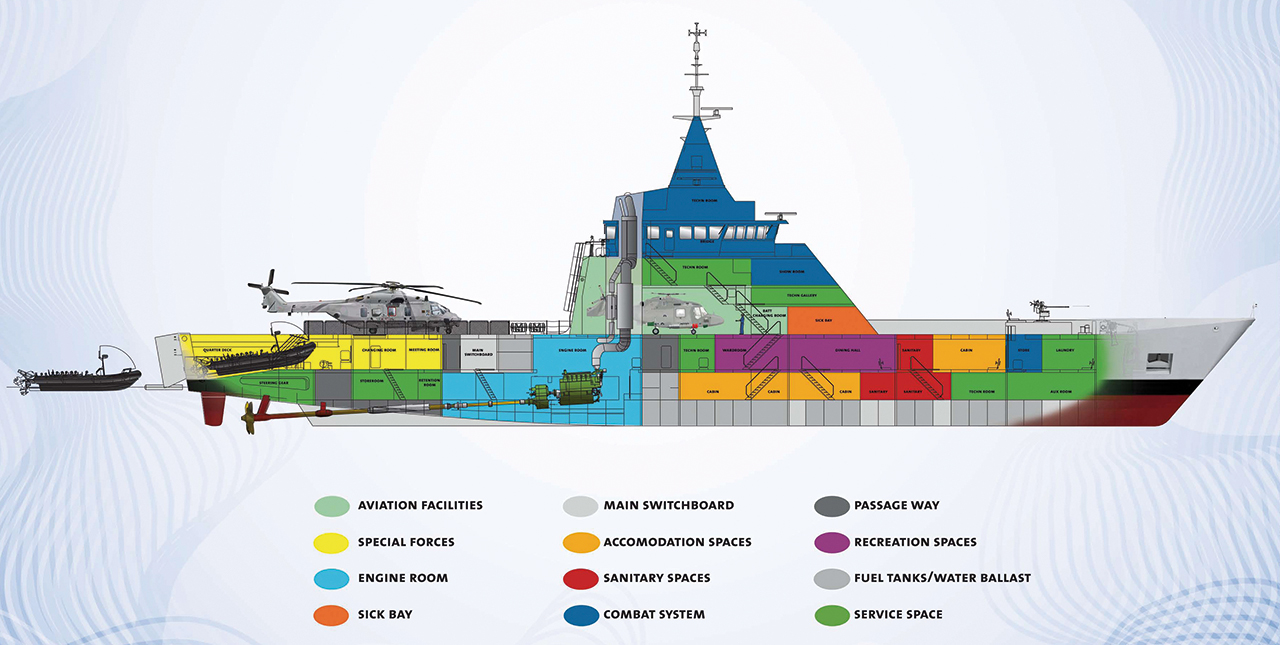 O arranjo geral do OPV da classe "Gowind" permite observar os espaços dos diferentes compartimentos do navio
Dimensões


Comprimento : 87 m
Boca: 11,7 m
Deslocamento: 1.500 toneladas
Calado: 3,2 m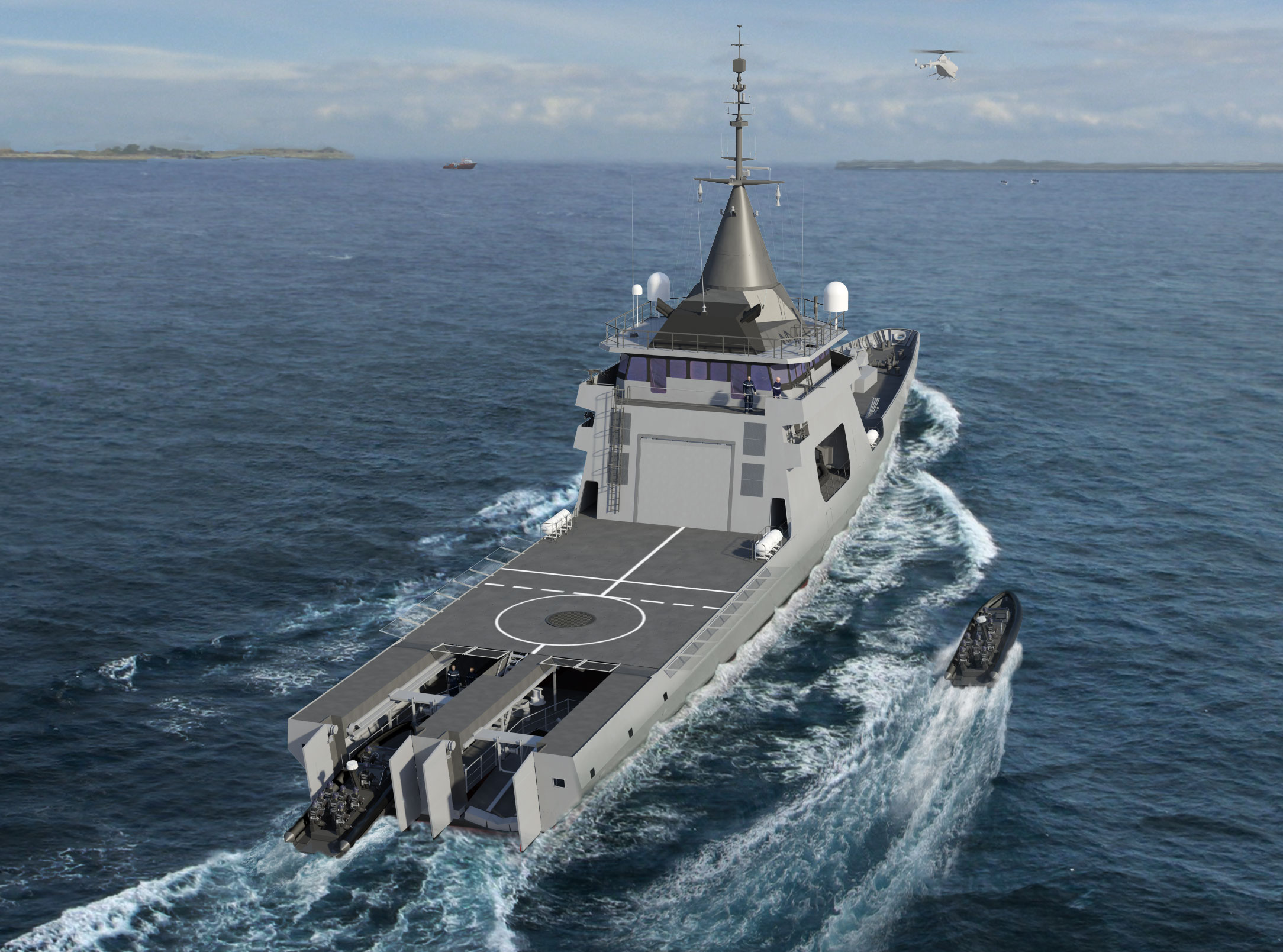 Raio de ação

 Velocidade
 Alcance
 Autonomia
 Velocidade máxima
 21 nós
 4.500 milhas
 9 dias
 Velocidade de patrulha
 12 nós
 7.500 milhas
 27 dias
 Velocidade econômica
 10 nós
 9.200 milhas
 39 dias
Área coberta em 24 horas com velocidade de patrulhamento

: 8000 nq².
Meios de coleta de dados/informação:
Radar de vigilância combinada ar/superfície: SCANTER 4102
Radar de vigilância superfície SCANTER 6002
Dois radares de navegação THEMYS
Guerra eletrônica THALES (interceptor rádio, possibilidade interceptor radar)
Vigilância ótica/infravermelha : EOMS NG e FLIR
Sistema de combate POLARIS / ligação de dados táticos (L11) / ADS-B / warship AIS
Capacidade de recepção de uma célula de reforço SIC (testada e validada em operações)

Meios de comunicação:
Satélite : Inmarsat, Syracuse III
Acesso às redes IP : Internet, Intradef, Intraced (SIC 21)
Rádio : 1 V/UHF, 2 UHF, 2 HF, 2 VHF Marine, 1 VHF AERO, 1 PR4G, L11.

Meios de ação
"All warfare is based on deception. There is no place where espionage is not used. Offer the enemy bait to lure him."